Hemp Seed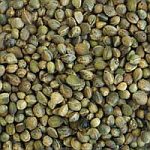 Whole hemp seed contains approximately 20-25% protein, 20-30% carbohydrates and 10-15% insoluble fibre as well as a rich array of minerals, particularly phosphorous, potassium, magnesium, sulfur and calcium, along with modest amounts of iron and zinc, the latter of which is an important enzyme co-factor for human fatty acid metabolism. It is also a fair source of carotene, a "Vitamin A" precursor, and is a potentially important contributor of dietary fibre. Most hemp seed also contains approximately 25-35% oil.
It is readily, and in some cases rather greedily, eaten by most snails.
The crushed seed by-product is suitable for animal feed as well as a human staple, due to its spectrum of amino acids, including all 8 of those essential to the human diet, as well as carbohydrates and a small amount of residual oil. Its protein is primarily edestin, a highly assimilable globular protein of a type similar to the albumin found in egg whites and blood. The hull contains magnesium-rich chlorophyll, a valuable source of nutrition for people, as well as being an excellent mineral source.
Reasons to use
It is native to Africa, meaning wild snails may well encounter it.
It is a perfect balance of nutrition containing all aspects needed to maintain health; feeding it will ensure the snails are not missing out on anything.
In humans it stimulates nail growth. The shells of snails are very similar to nails.
It can be stored for up to 7 years in the proper conditions, cool and dry.
It is very cheap, costing only £1/kg in small quantities.
How to Prepare
The simplest method is to use a coffee grinder to grind the seed into a powder, this can then be soaked in a little water to make a paste and fed straight to the snails. This is quick to do and not messy at all.
If you don't have a grinder there is another method but it is time-consuming, messy and the nutritional value isn't the same because the seed must be cooked. Without cooking, it is too hard to crush.
Cook the seed, by simmering until most of the seed has split and you can see the white tap-root sticking through.
Drain and the crush using a pestle and mortar, or a spoon in the pan. I have used a mallet in a pan to crush the seed and that works well.
Serve the crushed seed.
Where to get it from
You can buy Hemp from pet shops and fishing shops. Pet shops sell it as bird food and tend to sell it cheaper than fishing shops. Also, fishing shops sell a pre-boiled version which is likely to be more expensive. Health shops sell de-shelled hemp but this is expensive at about £4 for 250g (16 times more!!), and it somewhat defeats the object for a number of reasons: The nutrients of the shell are lost, it is no longer a cheap food source and it can't be stored for long periods of time. Fishing shops also sell pre-crushed hemp.
Nutritional Information
Hemp seed oil is a rich source of the essential fatty acids - linoleic, linolenic and gamma linoleic. (omega-3 and omega-6 fatty acids) These EFA's are necessary for healthy skin, hair and immune systems. According to Udo Erasmus in Fats That Kill, Fats That Heal, hemp seed oil is perfectly balanced in the essential fatty acids, linoleic and linolenic.
General Information

contains 6 immune-boosting essential fatty acids found in perfect ratio for human consumption.
protein content consists of 65% of the most digestible form of protein, allowing the protein to be easily assimilated by the human body, making it a great source for vegans and vegetarians.
contains 9 essential amino acids, 19 in total.
contains carotene, vitamin C, E, B1, B2, B3 and B6.
mineral content includes phosphorus, calcium, potassium, magnesium, silica, and iron.
outer shell is a form of insoluble fibre, which, when broken down, becomes a cleansing agent for the digestive tract and is an effective intestinal lubricant.
stimulates growth of hair and nails.
improves health of skin.
reduces inflammation.
carries toxins to the surface of the skin, the intestinal tract, kidneys and lungs where they can be expelled.
used in the treatment of glandular atrophy, gallstones, kidney degeneration, acne, and menstrual irregularity.
reduces blood serum cholesterol levels.
lowers blood pressure.
helps to reduce fever.

Specific Analysis of Hemp Seeds
Moisture
Fat
Protein (N x6.25)
Ash
Energy
Carbohydrates
Carotene (Vit. A)
Thiamine (B1)
Riboflavin(B2)
Pyridoxine (B6)
Niacin (B3)
Vitamin C
Vitamin D
Vitamin E
Insoluble Dietary Fiber
Soluble Dietary Fiber
Total Dietary Fiber

5.7%
30%
22.5%
5.9%
503 Calories/100g
35.8%
16,800 IU/lb.
0.9 mg/100g
1.1 mg/100g
0.3 mig/100g
2.5mg/100g
1.4 mg/.100g
10 IU/100g
3mg/100g
32.1%
3.0%
35.1%

Mineral Content It can be seen that hemp is especially high in the most needed minerals: Calcium, Magnesium, Phosphorus, Potassium and Sulfur. It is also low in heavy metals like Strontium, Thorium, Arsenic, and Chromium. The heat from the sterilisation process does affect the vitamin content, vitamins can be damaged by heat. The fresh green leaves of the hemp plant could not be tested for nutrition due to the fact they are illegal to possess.
Element Levels (PPM)
Aluminum
Antimony
Arsenic
Barium
Beryllium
Boron
Cadmium
Calcium
Chromium
Cobalt
Copper
Germanium
Iodine
Iron
Lead
Lithium
Magnesium
Manganese
Mercury

54.
1.75
0.3
6.48
0.04
9.5
0.28
1680. 800-1200 mg/day
0.65
0.53
12.
2.67
0.84 .080-.150 mg/day
179. 18 mg/day
0.027
0.062
6059. 300-400 mg/day
95.43
<0.001

Molybdenum
Nickel
Phosphorus
Platinum
Potassium
Selenium
Silicon
Silver
Sodium
Strontium
Sulfur
Thorium
Tin
Titanium
Tungsten
Vanadium
Zinc
Zirconium

0.51
5.0
8302 800-1200 mg/day.
9.23
6170.
<0.02
13.8
0.40
22.
7.33
2394.
8.12
2.6
1.78
1.84
0.84
82. 15 mg/day
1.23

Protein
Hemp seeds contain up to 24% protein. A handful of seed provides the minimum daily requirement for adults. Ohio Hempery's testing confirms that hemp has a high quality protein content that contains all eight essential amino acids in the correct proportions that humans need. Other research shows that hemp has actually nine essential amino acids but there seems to be a debate in the scientific community how many essential amino acids there actually are. Some say eight, others say nine. The basic proteins in hemp are easy to digest. They are comprised of 80% edestine, the most digestible of all protein types. When scientists developed the base vegetable protein model, they called it "edestine" and used hemp to find it. Soybeans contain a higher total percentage of protein, but these are complex proteins that many people find difficult to digest.
Again, it is worth noting that the sterilisation process that is required by law, slightly denatures some of the protein making it less nutritious than non-sterlised seed.
Protein scan of Hemp seeds
Amino Acid
phosphoserine
aspartic acid + asparagine
glutamic acid + glutamine
threonine
serine
proline
glycine
alanine
valine
cystine + cysteine
methionine
cystathionine
isoleucine
leucine
tyrosine
phenylalanine
tryptophan
ethanolamine
lysine
histidine
arginine

mg/g seeds
0.9
19.8
34.8
3.7
8.6
7.3
9.7
9.6
3.0
1.2
2.6
0.9
1.5
7.1
5.8
3.5
0.6
0.4
4.3
2.5
18.8

Analysis of Hemp seed oil
Moisture
% Vitamin A
Vitamin E
Phosphatides
% Chlorophyll
PPM Fat Stability AOM
Free Fatty Acid
Insoluble Matter
Iodine Value
Peroxide Value
Saponification Value
Specific Gravity
Unsaponifiable Matter
Smoke Point
Flash Point
Melting Point

0.19
8,700 IU/lb.
<1 mg/100g
0.03
6
5 hours
0.94%
0.01%
166.5
7.0 meg/kg
192.8
0.9295 at 20 C
0.28%
165 C
141 C
(-8 C)